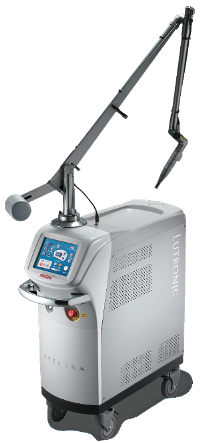 What is Laser Toning?
Laser Toning is 3 unique two-part procedure involving the application of a photo-enhancer with laser energy to reduce visible pigmentation. At the same time, Laser Toning not only improves the texture and unevenness of the skin, but it also reduces pore size and fine wrinkles.
What else should I know?
In general, if you have melasma you should avoid the sun whenever possible because exposure to the sun can worsen the problem, in addition, prolonged exposure to the sun can limit the effectiveness of your treatment. Applying a good sunscreen after Laser Toning will not only help your treatment to work better, but it will also help reduce the chances of the spots reappearing.
When will I see results?
It is important to wait the proper amount of time for results. Melasma treatment is a gradual process that requires 6-8 sessions to work effectively. The best part is that there is no downtime or side-effects and you can immediately return to your daily activities. Ask your doctor about scheduling your Laser Toning procedure today.
The Perfect MELASMA Solution right here for you...
Reduces melasma
No downtime or side effects
Safe for all skin types
Smoothes out uneven skin tones
Improves fine wrinkles
Shortens procedure time
No anesthetic needed
Long-term lasting results
TAKE YOUR PRACTICE TO THE NEXT LEVEL
A REVOLUTIONARY TREATMENT FOR MELASMA IS NOW AVAILABLE
With more than 6 years of clinical studies, an advanced technology for the treatment of melasma is finally FDA cleared, in addition to current various indications.